The Machine in the Garden
---
Underworld (Deus Ex Machina)
Well, the wait has paid off. I've been a fan of tMitG for nigh on five years now, long mesmerised by Rog's incredible sense of grandeur and romanticism. Since the beginning he has been capable of summoning any mood from quiet contemplation, to devilish anarchy. And when the machinist was joined by his own personal muse and co-conspirator, Summer, a couple of years ago, things just went from great to spellbinding.
The debut album kicks off with the catchy 'Final Form' (a track which will be familiar to anyone who bought 'Hex Files vol.2'), then eases serenely into the evocative 'Falling Into The Sea'. 'Dreams Of The Absent', the next track, is one of my personal favourites - instrumentally simple (just a couple of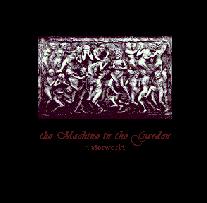 interweaving synth tracks), but once layered with Summer's harmonies it evolves into something quite... well, it sends a shiver down my spine.
While Summer's voice provides an almost constant and evocative focus for the listener throughout the album, the music is constantly springing surprises. For example, on 'This Arising, That Arises' just when you think you've got a handle on the airy proceedings a rumbling bass drum thunders out of nowhere and you're back on the edge of your seat.
Experimental pieces such as 'Spiritus Ex Obitus Sanctus' (an excerpt from the duo's 'Prometheus & Io' performance piece) also serve to break up the album. As do the tracks which allow Rog's trademark death-by-fuzz guitar to take the fore - 'Primevil', and the excellent remix of the classic 'Dark Splintered Heart', spring to mind.
All in all, there's just too much going on here for me to talk about. A lot of the material on this album has been around in some form or another for years, but it's all as contemporary now as it ever was. This is Rog's strength - his ability to be part of every subgenre, while at the same time transcending them all.
tMitG are darkwave, they're gothic, they're industrial and ambient, even techno; and yet at the same time they are none of these things. Find this CD, buy it. Quite simply there is something here for everyone. I'm absolutely besotted. This album is going to have my children, and I will have it no other way. (PB)
[1998]

---